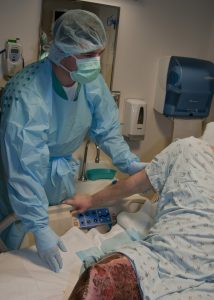 If you have suffered a serious burn from a fire or explosion, then you may be transported to a burn center.  While most hospitals can provide victims with immediate treatment for their injuries, they don't always have the equipment necessary to deliver the most effective burn care possible.  Fortunately, there exist specialized medical treatment and burn centers that focus on the treatment and rehabilitation of burn injuries.
Burn centers often utilize cutting-edge technology to help their patients.  Their certified professionals know how to use this equipment and these techniques to protect damaged skin from infection, perform specialized procedures, and therapeutically guide the victim through the recovery process.
There are a number of well-recognized burn centers located across the nation, the most prominent of which include the following:
Arizona Burn Center (Phoenix)
The Arizona Burn Center, located in Maricopa Medical Center in Phoenix, AZ, treats burn victims in Arizona, Northern Mexico, and the surrounding areas.  This facility is the second largest burn center in the United States, and it houses numerous operating, clinic, procedure, and therapy rooms.  The center also houses an on-site skin bank.
Los Angeles County-USC Medical Center (Los Angeles)
The Los Angeles County-USC Medical Center, also known as the LAC+USC Burn Center, is one of three burn centers located in the Los Angeles area.  This center is a teaching hospital that also houses a number of other injury-specific centers, such as pediatric and coronary care.
Bothin Burn Center (San Francisco)
The Bothin Burn Center, located in Saint Francis Memorial Hospital in San Francisco, is the only burn center in the Catholic Healthcare West hospital system.  This center specializes in treating not just a patient's body, but his or her mind, spirit, and environment, as well.   It staffs a wide range of burn-specific professionals and houses an intensive care unit, operating room, and outpatient clinic.
William Randolph Hearst Burn Center (New York City)
The William Randolph Hearst Burn Center, established in 1976, was the first facility of its kind in the New York area.  This well-equipped center contains an extensive skin bank, 40 beds for patients, and a hyperbaric oxygen chamber.  It also works to educate the general public on the importance of fire safety and the dangers of serious burns.
Johns Hopkins Regional Burn Center (Baltimore)
The Johns Hopkins Regional Burn Center of Baltimore specializes in treating patients who have suffered flame, scald, chemical, and radiation burns, as well as electrocution injuries.  With a diverse staff of burn specialists, psychologists, pharmacists, and social workers, this institution offers its patients surgical and psychological care, physical and occupational therapy, and outpatient care.
University of Chicago Burn Center (Chicago)
The University of Chicago Burn Center, located in the University of Chicago Medical Center, houses an eight-bed intensive care unit and offers a variety of treatments and services to its patients.  It also has a Ronald McDonald House that provides the families of burn victims with accommodations while their loved ones are receiving care.
University of Colorado Hospital Burn Center (Denver)
The University of Colorado Hospital Burn Center in Denver has been treating Colorado burn victims since 1976.  This institution offers immediate and long-term treatment and therapy.  It offers advanced care techniques targeted at reducing the patient's pain and risk of infection.  This facility also conducts continuing research over burn patient care.
Parkland Memorial Hospital Regional Burn Center (Dallas)
The Parkland Memorial Hospital Regional Burn Center in Dallas has grown since its establishment in 1962 into one of the largest burn treatment facilities in the United States.  Every year, nearly 1000 victims seek care at Parkland Burn Center, which has 14 beds in its acute care unit and 9 beds in its intensive care unit.  This facility annually maintains its reputation of delivering the highest standard of care to its burn patients.
Jackson Memorial Hospital Burn Center (Miami)
The Jackson Memorial Hospital Burn Center, also known as the UM/JM Burn Center, is the only facility of its kind serving southern Florida.  Every year, hundreds of patients from Florida, the Caribbean, and Latin America turn to this center for high-quality and advanced burn injury treatment.  Not only does the UM/JM Burn Center offer comprehensive care to all of its patients, but it also works hard to raise awareness of burn injury prevention and fire safety.
Oregon Burn Center (Portland)
The Oregon Burn Center, affiliated with the Legacy Health System in Portland, is the only treatment facility of its kind between Sacramento, CA and Seattle, WA.  It offers specialized treatment to adults and children alike, a number of advanced burn care technologies and systems, and free community classes over burn prevention and treatment.
These centers, among many others across the United States, have the staff and equipment needed to deliver effective treatment to burn victims.
Contact Us
Unlike hospitals, burn centers have on-staff professionals present at all times that can perform essential procedures like skin grafts, escharectomies, and surgeries on contractures.  These institutions typically offer outpatient care, long-term treatment, and other programs to assist burn victims with treatment and rehabilitation.